photo pinned here
Last year
we did some very beginning stages of backyard transformation along with a pretty major overhaul on our back deck (see the Home Depot Style Challenge
here
). This year I think we are going to pull the trigger on fencing in the back yard and getting rid of the chain link fence (why????). Here are a few inspiration photos. The plans are as follows: rip out existing chain link fence, tear down witchy trees and erroneous jungle, potentially expand driveway to accommodate more cars, build an outdoor shed and drumroll design the garden in the backyard. No sweat, right? The goal is to get the fence done this year and slowly chip away at the rest. Rome wasn't built in a day! I'm also excited to be participating in the style challenge again this year!
I love, LOVE this
shed design
that we could use for storing tools, garden supplies, hand me downs(?), etc. We have like zero storage so we need something. Pea gravel is something I just adore too and I want to incorporate it heavily in the garden as well. We can't grow grass in the back so why try and I just love the look.
This is still the
main fence inspiration photo
- I love the clean lines, it matches the style of our home and the height is so great for privacy. I want to be able to have complete privacy in our backyard. It does look labor intensive and we are planning on building most of it ourselves. Trying to talk Sam out of that because pretty sure it will take us the rest of the year. Little kids + projects = quadruple as long as projects should take. Amiright?
A mini-project that I'd love to knock-out for instant gratification is to add a portico over our kitchen side door and paint it the same color as our front door. I took this photo in
Alys Beach
which is one of my favorite places ever. I also want to switch out the outdoor fixture to something like
this
.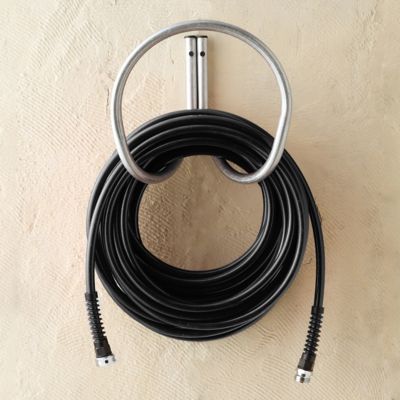 Another instant gratification was scoring this
simple and inexpensive hose reel
for my new mint green hose (it's the little things!).
twitter/ facebook/ pinterest/ instagram/ bloglovin'